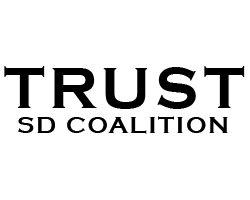 FOR IMMEDIATE RELEASE Contact: Geneviéve Jones-Wright, Esq.
January 29, 2020 Phone: 619.363.7382
Email: Genevieve@PANASD.org
ALERT: Huge Win for TRUST SD Coalition and Community Members At Large at PS&LN Today
San Diego - This morning, the Public Safety and Livable Neighborhoods Committee of the San Diego City Council unanimously rejected the Draft Council Policy on Streetlight Sensor Data Use put forward by the City. Along with the rejection was agreement with the TRUST SD Coalition for an overarching ordinance that will provide policy and oversight for all surveillance technology that the City currently uses and will use in the future.
This win came on the heels of a politically-motivated attack on the Coalition by San Diego City Attorney Mara Elliott yesterday, which was the impetus for a press conference held in front of the Alpha Project Shelter Bridge where she used the death of a beloved community member as a political chip (disrespecting his family). She tried her best to discredit TRUST SD Coalition as a "small group...telling a bunch of lies about Smart Streetlights to try to shut them down." She even said that the Coalition tries to "intimidate" elected officials with "scare tactics". To date, she has offered nothing to support her baseless claims.
Over the course of the last few weeks, the TRUST SD Coalition, which is made up of 30 community organizations, has had meetings with Mayor Faulconer's staff, the Sustainability Department, and the Chief of Police about the Smart Streetlights technology and the need for an overarching ordinance. From the very beginning, TRUST SD Coalition has made repeated offers and has taken affirmative steps to work with the City and law enforcement to get an ordinance written and passed. It has been repeated time and time again that the TRUST SD Coalition is not against the use of surveillance technology so long as there are mechanisms in place for transparency, accountability, and public oversight, including but not limited to an ordinance. It is shameful that City Attorney Mara Elliott would attempt to disrupt the progress being made with City officials concerning the Smart Streetlights and use the issue as a political ploy and retaliatory tool. This has never been about an aversion to crime solving; it has always been about the responsible use of such technology to aid in public safety efforts.
"It is no secret that we live in a technological era, and no denying the benefit of this technology in crime-solving. However, allowing technology to show up in our neighborhoods unannounced and uncontrolled erodes trust between our communities, City officials, and law enforcement," declared Councilmember Monica Montgomery during the committee meeting.
Chief Nesleit, signaling to the Community his efforts to build trust, expressed his openness to having "more conversation about this to include an ordinance or an administrative regulation (AR) overarching for all technology as we [SDPD] do have other technologies."
Councilmember Vivian Moreno expressed concern about the data being given to ICE by GE since "we [the City of San Diego] don't house the data. GE houses the data." This was a monumental admission by the City who, by the way, were sitting at microphones and did not refute this statement. This statement confirmed what TRUST SD has been telling community members in community forums. It also flies in the face of the fact sheet Elliott handed out to the press and posted on social media yesterday declaring that "[n]o one outside the City has access to the streetlights footage". Clearly, if GE houses the data, they already have access to it, as they possess it.
"The Councilmembers on the Public Safety & Livable Neighborhoods Committee should all be commended on their community-centered and common sense approach to the oversight of the surveillance technology that our City employs. The TRUST SD Coalition has only advocated for the responsible use of surveillance technology, not an end to it completely as Ms. Elliott said during her press conference yesterday. I was appalled by her personally- and politically-motivated press conference where she maliciously lied about the Coalition, further showing her vindictiveness. Within the first minute of her press conference she confirmed this was the entire purpose. It's really a shame. But, today - despite the baseless attacks - we secured a nice win for the Community," says Geneviéve Jones-Wright, Legal Director of PANA.
In response to the City Attorney's attacks on the TRUST SD Coalition, Seth Hall, asked Elliott "can you please act like you're a powerful government official and de-personalize your messages? We don't want anything to do with your political campaign, we don't want to be threatened with lawsuits. If you disagree with our 2016 concerns, refute us. Don't use the power of elected office to try to bully and silence a bunch of individual community advocates and nonprofits. Not easy to get any city leader to collaborate on this topic, but gosh, we'd love to win your support for some fixes rather than get your lawsuit threats. Thanks."
It should also be noted that despite Ms. Elliott's failed efforts to advance this falsity for her own political gain, Cory Briggs is not a member of, and does not represent, the TRUST SD Coalition in any way, nor do any members of the coalition work for him.
For facts about us, please feel free to follow TRUST SD on Twitter at @SanDiegoTRUST or visit or website at www.SanDiegoTrust.org
_______
The Transparent and Responsible Use of Surveillance Technology San Diego (TRUST SD) Coalition was originally formed to address the widespread and secretive use, installation, and acquisition of the Smart Streetlights technology that is being deployed all over San Diego County. TRUST SD is now leading the call for community oversight of the use of all surveillance technology and a strong, legally enforceable ordinance to address privacy and civil liberty issues. To that end, we wrote a community-focused ordinance that will put in place community oversight and transparency essential for our Democracy. We educate community members through community forums and workshops around the county as well as city council members and other government and elected officials through our lobbying efforts. We advocate for community-led solutions to all of the problems we face as a city. We are 100% community-centered and community-driven.
TRUST SD is made up of 30 local community organizations that represent various sectors of our communities.
######################